Whether you have a period property near Rosyth, or a new build in Dunfermline, there are conservatories to suit all sorts of Scottish homes, and they can even add value to your property.
Conservatories are certainly a great addition to any home, adding space and bringing the outdoors inside. However, many people get conservatories installed and then wonder what to do with the extra space, so it's worth thinking about how to use the space before you choose the style.
Here are four great ideas on how best to use a conservatory.
1. Create a Playroom
Ever wanted a place for the kids to play and for toy storage? Conservatories make great playrooms as they:
Let the kids get natural daylight
Give you a space to store toys
Give kids the feeling of playing outdoors all year round
Create a secure space for them to play
Any Scottish parent or grandparent will know that the kids often get underfoot during the long winter months, so adding a conservatory is the next best thing to garden play.
For extra use, add french doors. The space can then be opened during warmer days, creating an indoor/outdoor play space.
2. Make a Home Office
More and more people work from home, whether one day a week or full-time, and having your own space to work helps you get more productive. Such rooms are also handy when the inevitable snow days come around and you can't get into the office.
With features such as bay windows able to be added too, you can enjoy lots of natural light while you work and look out over your garden while you get your work done.
3. Dine Indoors or Out
If your home doesn't have a separate dining room, then a conservatory can be a great place to entertain. Planning a summer BBQ? We all know that the unpredictable Scottish weather can ruin them, but with a conservatory you have the option to eat inside if needed.
Adding features such as bi-fold doors allows you to give the room even more of an indoors/outdoors feel, so when it's rainy yet warm, you can still feel like you're enjoying Al fresco dining.
4. Extending a Room
Want a bigger kitchen or living room, but finding extensions expensive? A conservatory can be an easy and quicker way to make your ground floor bigger. Conservatories don't have to be a separate, enclosed space – they can be open plan which will instantly make your home feel bigger. This could allow you to have a kitchen island, open plan kitchen/diner, or bigger family living space.
Because conservatories use a lot of glass, you can achieve a bright, contemporary style, and bring lots of light into the space, as well as giving you great views of the garden so you can enjoy the outdoors all year.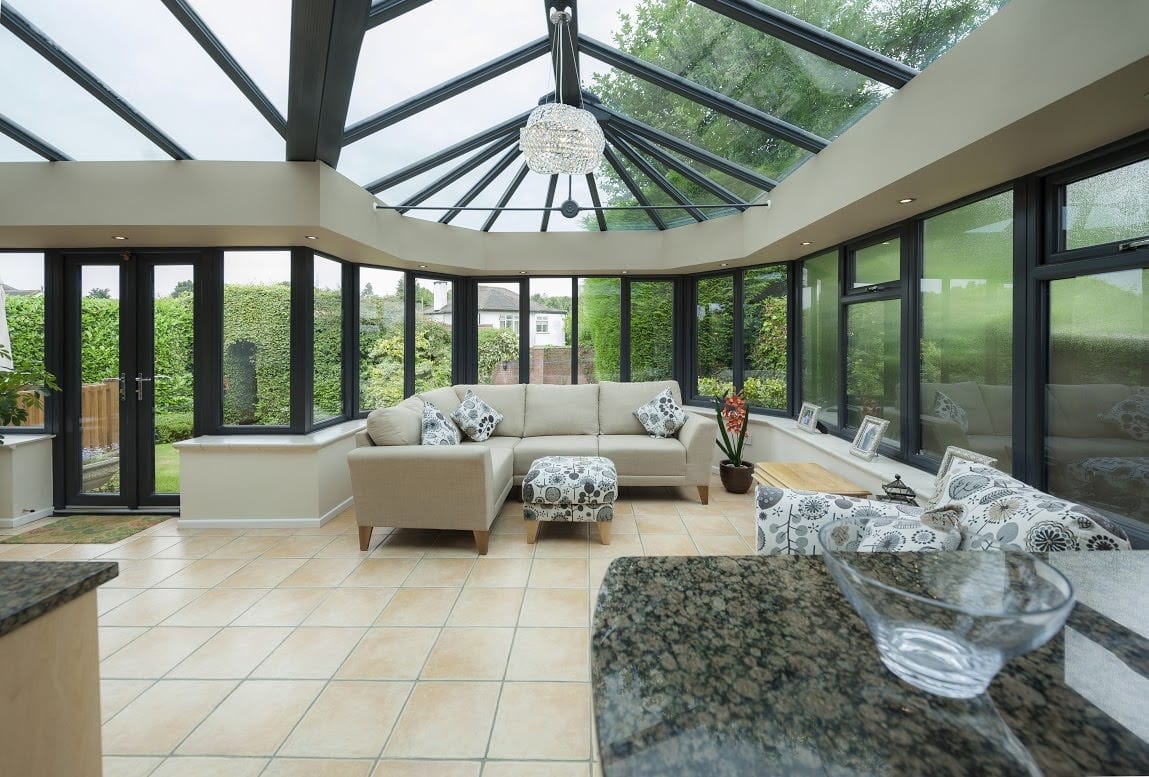 Contact SRJ Windows
If you're considering adding a conservatory to your Scottish home, visit SRJ window's showroom at Macintosh House, Innova Campus, Viking Way, Rosyth, near Dunfermline, KY11 2UU, call 01383 851 951, or e-mail hello@srjwindows.com to find out more.
Categories: Updates